Serenity
Serenity This is old, but I'm just very excited about Firefly's upcoming movie, Serenity. It's really unfortunate that they stopped an excellent show like Firefly, but at the very least, I'm happy that they're making a movie out of it. And ofcourse, I really need to be thanking Lorenzo for gifting me the entire DVD collection for my birthday this year!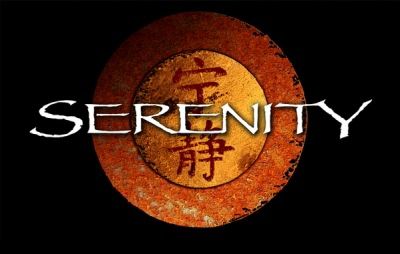 Take my love, take my land, take me where I cannot stand.

I don't care, I'm still free, you can't take the sky from me.

Take me out, to the black, tell 'em I ain't comin' back.

Burn the land and boil the sea, you can't take the sky from me.

There's no place, I can be, since I found Serenity.

You can't take the sky from me....
And besides, it shows River kicking ass - have I ever told you that I think River is one of the best sci-fi characters ever created?. While her character is not particularly unusual or new, it is refreshing to see such a character with an awesome sense of humour.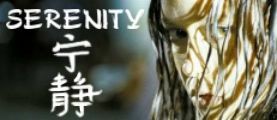 [it's worse than you know - it usually is]
And talking of which, that show had some of the best lines I've ever heard...
... ... ... ...

Jayne:

Are you saying River's a witch?

Wash:

Yes, Jayne, she's a witch. She's had congress with the Beast.

Jayne:

She's in Congress?

Wash:

How did your brain even learn human speech? ... ... ... ...

Early:

You're all insane.

Simon:

My sister's a ship. We had a fairly complicated childhood. ... ... ... ...

Mal:

You know, you ain't quite right.

River:

It's a popular theory. ... ... ... ...

Simon:

You're out of your mind.

Early:

That's between me and my mind. ... ... ... ...

Early:

Where did River go?

Simon:

I can't keep track of her when she's not incorporeally possessing a spaceship - don't look at me. ... ... ... ...

Zoe:

Oh yeah, this is gonna go great.

Mal:

If anyone gets nosy, just, you know... shoot 'em.

Zoe:

Shoot 'em?

Mal:

Politely ... ... ... ...

Mal:

I believe that woman's planning to shoot me again. ... ... ... ...

Simon:

You know, I've saved lives. Dozens. Maybe hundreds. I reattached a girl's leg. Her whole leg. She named her hamster after me. I got a hamster. He drops a box of money, he gets a town. ... ... ... ...

Jayne:

No. I would never do that, my hand to god, may he strike me down as I'm standing here.

Mal:

Well, you won't be standing there long. ... ... ... ...

Mal:

One of you is gonna fall and die, and I'm not cleaning it up! ... ... ... ...

Kaylee:

Oh, gosh, I... I-I knew she took females as clients... I just... They look so glamorous together.

Jayne:

I'll be in my bunk. ... ... ... ...

Zoe:

Preacher, don't the Bible have some pretty specific things to say about killing?

Book:

Quite specific. It is, however, somewhat fuzzier on the subject of kneecaps. ... ... ... ...

Zoe:

Take me, sir. Take me hard.

Jayne:

Now somethin' about that is just downright unsettling. ... ... ... ...

Jayne:

Well... I don't like the idea of someone hearin' what I'm thinkin'.

Inara:

No one likes the idea of hearing what you're thinking. ... ... ... ...